Call us today for your free consultation
Restore Your Confidence Today
The majority of men and women are suffering from hair loss at an early stage of their life, resulting in a great loss of self-confidence.
Dr Chris Leat specialises in the hair loss treatment called Regenera Activa on the Gold Coast and is available for both male and female clients.
What is Regenera Activa Hair Loss Treatment?
This treatment uses the Rigenera® device, a tool specially developed for clinical application and regenerative procedures using autologous micro-grafts.
This simply means the patient is both the donor and recipient as regenerative cells and growth factors have been extracted and finally reintroduced back to the patient.
Quick procedure – 30 minutes
Virtually drug free – uses your own tissues for regeneration
Only 1 treatment every 1-2 years
Also for other conditions – vitiligo, scars, stretch marks, skin rejuvenation
To find out more and for a free consultation call us on 07 5539 4000
Male Hair Loss Restoration - Before and After Treatment with Regenera Activa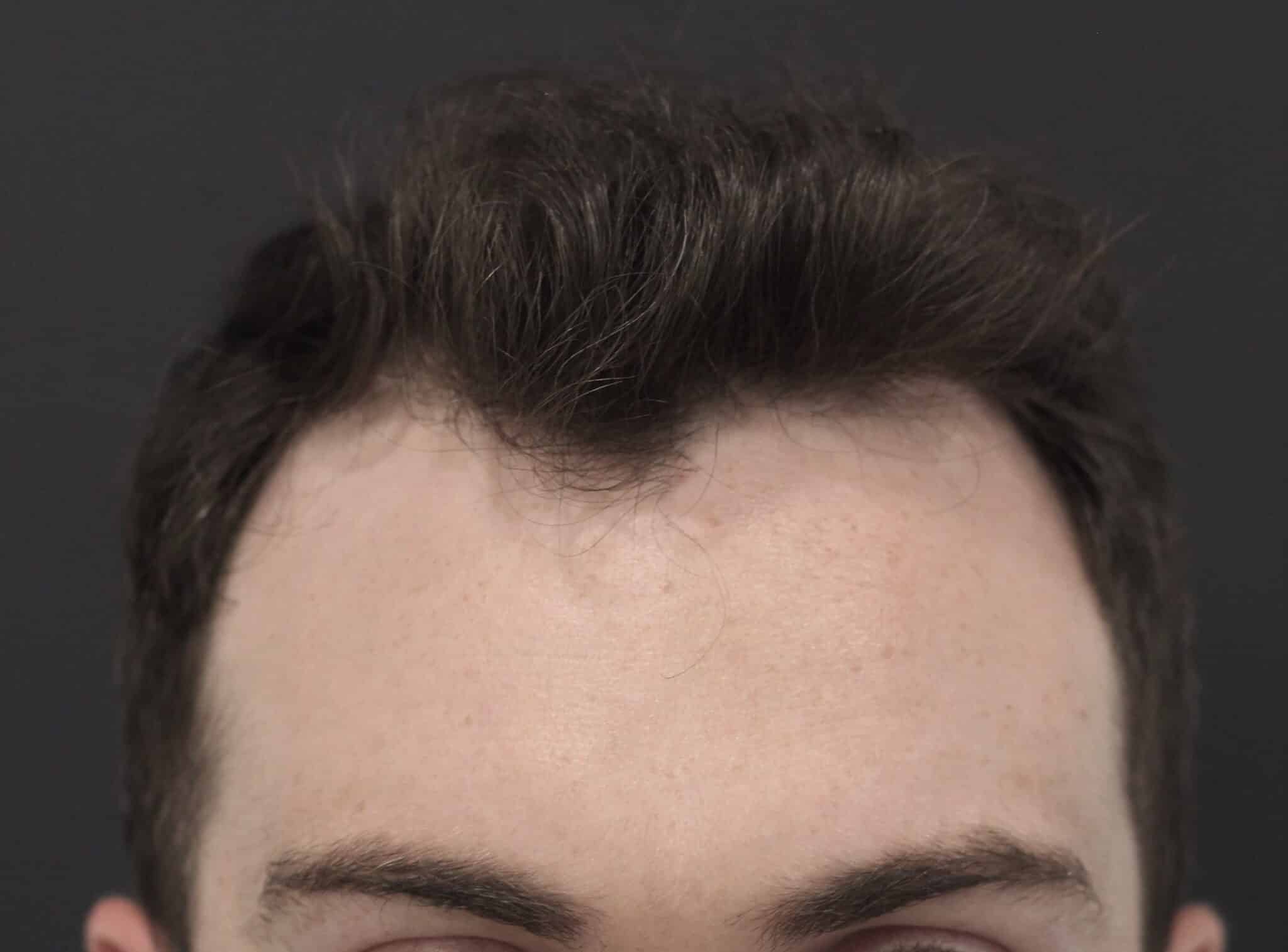 Regenera Activa - A new hope for hair loss
Hair loss is a common condition effecting many men and up to 30% of women.
Treatment options to date have been somewhat limited, however a totally new treatment is now available, and Envisage Clinic is excited to be one of the first clinics in Australia offering Regenera Activa as an option.
Current medical options for hair loss are as follows;
Regenera Activa is a novel type of treatment. Essentially very small (2-3mm) plugs of hair bearing skin are removed from the back of the head under a small local anaesthetic.
This tissue is then processed in clinic to yield about 5mls of cell rich serum. This is then injected into the area of concern. The serum is rich in stem and progenitor cells which stimulate follicles.
One of the major benefits of Regenera is that only one treatment is performed every year to two years. This compares to platelet rich plasma which necessitates a series of usually 4 treatments with top up treatments every 6-12 months. Ultimately this makes Regenera a much more efficient treatment with far fewer consultations and sessions, and less overall cost.
Regenera treatments are quick (about 30 minutes, minimally invasive, drug and enzyme free, and relatively pain free.
European studies have been very promising.
Other uses for Regenera
Regenera can be used wherever rejuvenation of cutaneous structure or function is desired. It has been shown to be beneficial in vitiligo, scars, stretch marks, and for general skin rejuvenation.
Things That You Need to Know About a Hair Transplant
A hair transplant is a surgery that permanently restores hair by removing a narrow strip of hair-bearing scalp.
The strip is taken from a part of your head that contains a dense hair growth. It is used to fill a section with thin or no hair. The majority of hair transplants are conducted in the doctor's office under local anaesthesia.
During the transplant process, the primary step the doctor takes is to clean the scalp section, and then injects an anaesthetic in order to numb the section where a small section of the strip of scalp will be removed. After removing the strip of scalp by the use of a scalpel, it will be set aside, and the scalp will be closed and immediately hidden by the hair around it.
For the next step, the section of the removed hair-bearing scalp will be divided by the doctor into tiny grafts containing only an individual hair or a few amounts of hair follicles each. The amount and type of graft used depends on the hair type, color, size, and quality of the section where it will be transplanted.
Before and After the Day of Surgery
You may bring your favourite book or magazine to read, or just select from our own reading facilities. If you want to watch television, feel free to bring your preferred DVD, or simply enjoy a light nap – the decision is completely up to you.
After the procedure, an appointment is suggested within ten days to remove sutures and to check the status of the scalp. This can be provided free of charge.
Our Expectation / Recovery
After undergoing hair transplant surgery, you will have a very tender scalp. Over-the-counter pain relief medication is recommended to address this. Recovery to the point of returning back to your daily routines and activities typically takes between 2 to 5 days after surgery.
In a span of 2 to 3 weeks after the hair transplant, the transplanted hair will slowly fall out – but you will slowly notice new hair growth within a few months and usually will attain 60 percent of new hair growth after 6 to 9 months.
To arrange a Gold Coast hair transplant service with our team, get in touch today. We also offer services for acne, rosacea,

mole removal

, protruding veins, and much more.
Female Hair Loss Restoration - Before and After Treatment with Regenera Activa
What is the RIGENERACON? - As used by Dr Chris Leat in Regenera Activa Hair Loss Treatment
It is a device designed and approved to mechanically disintegrate any biological tissue obtaining autologous micrografts in a minimally invasive way.
The Rigeneracon is a class II sterile and disposable medical device consisting of a rotation and pressure propeller, a grid with 100 hexagonal holes 80 microns in diameter, and 600 micro blades designed for optimal and effective cutting of different tissue types.
Each device is equipped with an RFID microchip that contains product information for security and traceability reasons.
All treatment performed by Dr Chris Leat
Dr Christopher Leat – Medical Director Envisage Skin Clinic Founder and Director.
Dr Christopher Leat has 33 years' experience in Medicine and is a member of The Royal College of Physicians of London.
Dr Leat has devoted the last 18 years to Cosmetic Medicine and is recognized throughout Australia as one of the most experienced doctors in the field of Cosmetic Medicine.
To inquire about our revolutionary Hair Loss Treatment or to book your treatment, please complete the form on the left and we will be in contact or you can call us on 07 5539 4000 for more information on how we can help you.
Our hair loss treatment is available for both men and women. 
To find out more about our services, or request a no-obligation quote, don't hesitate to contact us today.
All treatment performed by Dr Chris Leat
Frequently Asked Questions
07 5539 4000