Migraine, Teeth Grinding & Sweating
Call us today for your free consultation
Migraine, Teeth Grinding & Sweating
Migraine, chronic headache, teeth grinding and excessive sweating (hyperhidrosis) are all conditions that can be effectively treated with anti-wrinkle injections.
Anti-wrinkle injections have been shown in studies to be a treatment for chronic migraines and headaches. The exact mechanism of action is unknown, but it is certainly more than just a muscle relaxant effect, and it is suggested that these treatments are working more centrally. Results are variable, some patients find that there is little or no effect, but a majority find that their migraines are improved in both frequency and severity, with a sizable number finding that anti-wrinkle injectable treatment completely or almost completely eliminates their headache for several weeks or months at a time. Some of these patients have found that no other treatment appears to work well for their migraines, and Envisage Clinic treats several patients for migraines who have found that anti-wrinkle treatments have literally changed their lives.

Anti-wrinkle injections for migraines are available with a Medicare rebate with referral from your GP to a neurologist who offers them. Dr Leat and Envisage clinic are unable to offer a Medicare rebate. We have, however, found that cosmetic doses and placement of anti-wrinkle injections appear often as effective as higher doses, allowing us to provide treatment at a reasonable cost and with the added benefit of a cosmetic result.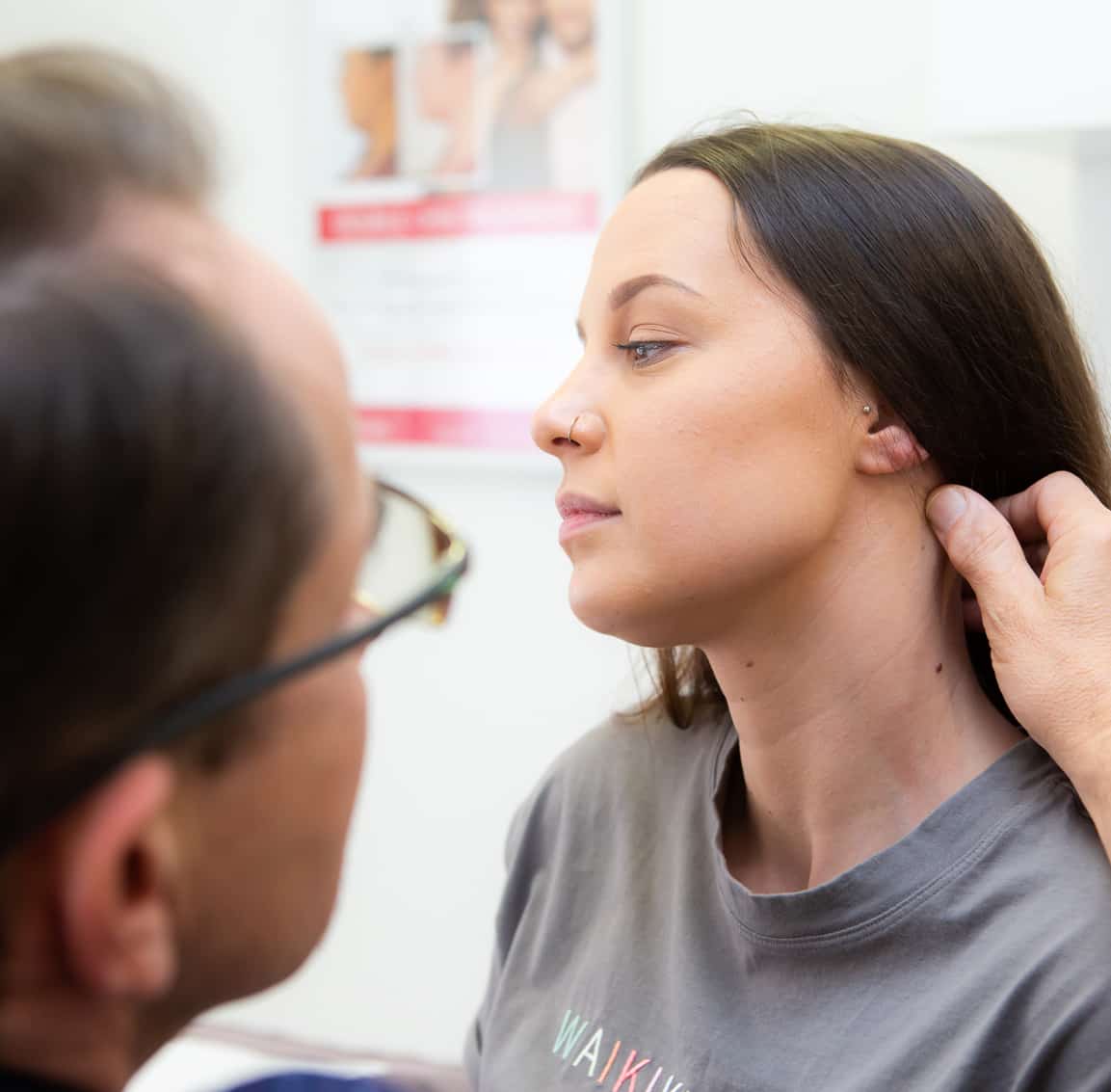 Teeth grinding is a common issue which can lead to worn teeth and dental issues, headache and jaw joint (TMJ) issues. There are a variety of treatments which include wearing splints in the mouth at night and sometimes surgery. Anti-wrinkle injections placed in the chew muscle (masseter muscle) at the angle of the jaw can be effective at relieving teeth grinding and jaw clenching issues. Essentially the injections (which are quite painless) weaken the muscle that causes the teeth grinding, allowing the jaw to be more relaxed. Benefits can last several months with further improvement with repeated treatment every 4-6 months as required.
Teeth grinding can also cause enlargement of the masseter chewing muscle over time. This changes the face shape tending to cause a squarer outline. One of the benefits of treating with anti-wrinkle injections is a narrower jawline contour which can have a pleasing cosmetic result, particularly for women.
Excessive Sweating (Hyperhidrosis)
Sweating is normal, but some people find that they sweat excessively. This is a medical condition called Hyperhidrosis. Hyperhidrosis can be very problematic for some people. No anti-perspirant appears to work, clothes are stained and ruined, shirts have to be changed after just a few hours or less of wear and the condition causes social embarrassment. The long hot Gold Coast summers don't help either!
Some patients even resort to surgery to help with the condition, although all invasive procedures carry a risk and don't come with guarantees of prolonged success.
Anti-wrinkle injections placed in the affected area (usually just into the skin in the arm pit) are an effective option for many. This is a treatment that is virtually risk free and rarely ineffective. Generally it reduces sweating greatly, to a normal level or less, for a period of several months (although some patients report an even more prolonged benefit).
To enquire about treating migraines, teeth grinding or excessive sweating with anti-wrinkle injections, book a consultation with Envisage Clinic.